Thanedar: The Apple Country in the Mountains
|
About 80 km away from the noise and hustle bustle of Shimla is a quiet retreat – Thanedar – known as the fruit bowl of Himachal Pradesh. You might have had Himachali apples; this is where most of them come from.
Visit Thanedar during the season and you'll see trees laden with apple, plum and peach. To witness a riot of colours, go here when trees come alive with white, pink and light green flowers. And in between if you could take time out from walking the apple orchards and eating fresh and juicy fruits; stop and take a look at the magnificent panorama of snowy mountains and the Sutlej meandering below.
History
Had it not for an American gentleman named Samuel Stokes, the history of Thanedar and the region around would have been completely different. He came here in 1904, married a Himachali girl, planted first saplings of apple tree in Kotgarh (6 km away) and the rest as they say is history. Today Thanedar and the surrounding area is famous as the fruit basket of Himachal Pradesh.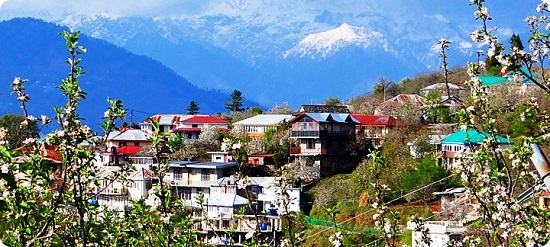 What to see and do in Thanedar
Besides walking around the fruit orchards and basking in the serenity of Thanedar, there are quite a few places that you can explore in and around Thanedar. Perhaps the most popular place to visit is the Arya Samaj Mandir, built by Samuel Stokes in typical pahari style. The temple has inscriptions from the Upanishads and Bhagavad Gita. The Arya Samaj Temple offers lovely views of apple orchards.
Not too far from Thanedar is Kotgarh where you can visit St. Mary's Church. Drive 4 km from Thanedar and spend some time at the placid Tani Jubber Lake. A splendid backdrop of snowy mountains and a temple along the lake adds to the beauty of the lake. Those love hiking may take a trail to Saroga Forest or Shila Jan Ridge.
Narkanda, Sarahan and the Hattu Peak are other nearby places that one may visit.
Best time to visit
The best time to visit is from April to June when flowers bloom, fruits ripe and ready to be picked. You may also visit between August and November.
How to reach
The nearest airport is Jubbarhatti, Shimla (105 km away) and nearest railhead is Kalka, 174 km away. A taxi can be hired from Shimla or Kalka; Thanedar is 2 km off the Hindustan-Tibet road (NH22).