Uttarakhand bus ticket booking: Book a bus ticket in 5 easy steps
|
If you are planning to visit Uttarakhand, travelling by Uttarakhand Transport Corporation (UTC) buses is an economical option. With online bus ticket booking facility by Uttarakhand roadways, you can easily book a ticket to your destination in the state. Regular bus service is available to most popular tourist places in Uttarakhand from most cities in North India. You can book a bus ticket online to Nainital, Mussoorie, Dehradun, Haridwar, Rishikesh, Haldwani and other popular tourist destinations in Uttarakhand. Buses to Uttarakhand are available from Inter State Bus Terminus (ISBT) at Kashmeri Gate and Anand Vihar in New Delhi.
Uttarakhand Transport Corporation runs the following bus services:
How to book a bus ticket in Uttarakhand Transport Corporation  buses:
Step 1: If you have not already registered, visit UTC Website (http://utc.uk.gov.in/) to register

Step 2: Fill up the registration form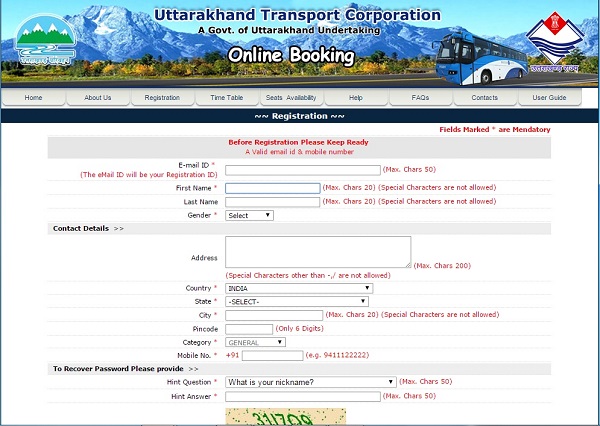 Step 3 : Check your e-mail and you'll get your password to login to the UTC website.
Step 4: Login with your registered e-mail ID and password you received from UTC
Step: 5 Once you login, you'll be prompted to change your password. Please change your password and click save. Once you click save, you'll be prompted to login again with your new password, which you just changed.
Hurray! Now you can book a bus ticket to your destination in Uttrakhand.