How to book Taj Mahal Entry Ticket Online?
|
Now you don't need to queue at a ticket counter to book an entry ticket to Taj Mahal. The online booking facility to book ticket for Taj Mahal and Humayun's Tomb is available now. It is easy and convenient as you can book Taj Mahal tickets online from the comforts of your home or an Internet café from anywhere in the world.
To book Taj Mahal tickets online, all you need to do is log on to asi.irctc.co.in. You can then book an e-ticket for Taj Mahal in four easy steps.
Here is how you can book Taj Mahal Tickets Online:
1. Select the monument you want to visit (there are two monuments – Taj Mahal and Humayun's Tomb – for which online ticket booking facility is available.)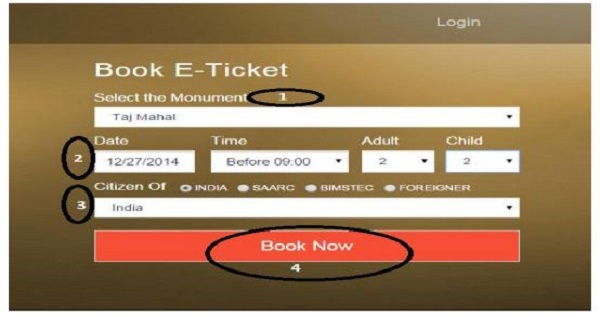 2. Select 'Date', Visiting Time, No. of Adults and No. of Children.
3. Select 'Citizen of' and 'Citizen Country'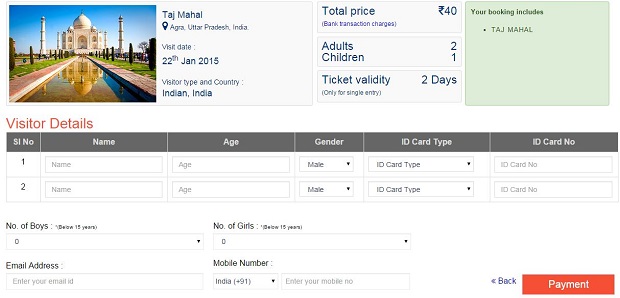 4. Click on Book Now Button; Add visitor Details, contact info and make payment
And hurray, you are done!
Here is how your Taj Mahal e-ticket will look like
You can also login to get the history of the ticket booked.
Click on 'Login' button
Enter login details (user id and password), you would have received in the e-mail provided while booking the ticket.
You'll see the details of the tickets booked.
Taj Mahal E-ticket Booking Terms & Conditions
The e-ticket is not transferable.
Entry Fee is not refundable.
E-ticket cancellations are not permitted.
The Monument is open for visitors between sunrise and sunset.
Visitor shall be required to show photo identity proof in original at the entry to the monument.
Edibles are not allowed inside the monument.
Inflammable/dangerous/explosive articles are not allowed.
This monument is a Non Smoking zone.
The Taj Mahal is closed on every Friday.
For any suggestions/queries, contact at customer care no 011-39340000, 011-233440000.