Char Dham Yatra 2018 – Opening & Closing Dates
|
Char  Dham Yatra 2018 Opening Dates

Yamunotri Temple Opening Date : 18 April 2018
Gangotri Temple Opening Date: 18 April 2018
Kedarnath Temple Opening Date: 29 April 2018
Badrinath Temple Opening Date: 30 April 2018
Every year hundred thousands of devotees eagerly wait for the opening of Char Dham Yatra. Char Dhams or the four sacred shrines – Yamunotri, Gangotri, Kedarnath and Bandrinath – in the Garhwal Himalayas remain inaccessible in winter due to heavy snowfall in the region. It is only in summer when snow melts and roads are cleared, the Char Dham Yatra begins.
The Hemkund Sahib Yatra to holy Sikh shrine – Shri Hemkunt Sahib also opens around the same time.
Traditionally Chardham Yatra is taken from west to east, which means the yatra starts from Yamunotri, proceeding to Gangotri, Kedarnath and then terminates at Badrinath.
The official announcement of opening of Char Dham Yatra is done by Garhwal Mandal Vikas Nigam (GMVN), a department of Uttrakhand Tourism, which manages tourist rest houses and other tourism activities in the Garhwal region.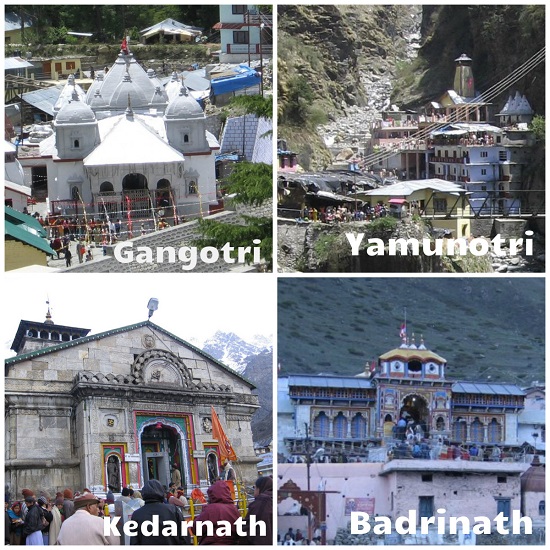 The kapat (doors) of Char Dhams close as the winter sets in. Yamuntori Temple usually closes on Yama Dwitiya (the second day after Diwali). Gangotri Temple generally closes on the day of Diwali. The holy shrine of Kedarnath closes on Yama Dwitiya (the second day after Diwali) and Badrinath Temple closes on Vijaydashmi or Dusshera.
Char  Dham Yatra 2018 Closing Dates (Tentative)

Yamunotri Temple Closing Date : 20 Oct. 2018
Gangotri Temple Closing Date: 19 Oct. 2018
Kedarnath Temple Closing Date: 20 Oct. 2018
Badrinath Temple Closing Date: 9 Oct. 2018
For more information you may contact:
GM (Tourism),
Garhwal Mandal Vikas Nigam Ltd.,
74/1, Rajpur Road, Dehradun-248001.
Ph.: 91-135-2740896, 2746817, 2749308, 2748478
Fax: 91-135-2746847