Ramgarh : Happy Holidays in Solitude
|
Wanting to getaway from the humdrum of city life? Looking for solitude in the lap of nature?  Ramgarh is the place to visit. Loved by writers, poets and peace lovers, Ramgarh is a serene and secluded hill station located in the Kumaon region of Uttarakhand. It is at a height of 1789 m above the sea level and is well known for its fruit orchards of apricots, plums, peaches and apples.
Founded by the British, Ramgarh has seen many high profile visits including India's only literature noble laureate – Rabindranath Tagore. The hill station carries the legacy of some ancestral buildings, used as inspection bungalows and temporary stay palaces for officers, dating back to British colonial period.
Ramgarh is perfect getaway for leisure trips and happy holidays in solitude. It is an ideal travel destination to eat, read, sleep, walk… repeat. One can get the luckiest chance of unobstructed views of verdant Himalayas when weather is clear.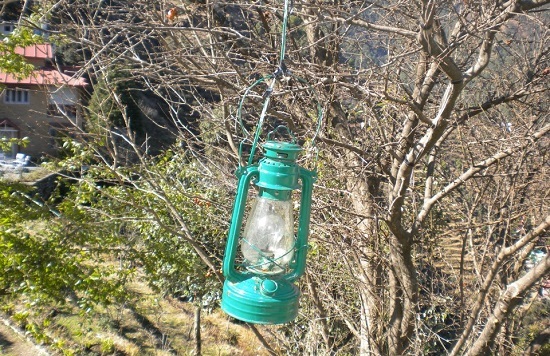 Attractions: Places to visit in and around Ramgarh
Nathuakhan: A quiet hamlet not too far from Ramgarh, Nathukhan is popular for nature walks. It is a good place to meditate or recharge your city-jaded nerves.
Mukteshwar: About 25 km away from Ramgarh is Mukteshwar. The place got its name from a 350 year old temple Mukteshwer Dham where Lord Shiva is the presiding deity. Besides nature walks, Mukteshwar offers lovely views of the Nanda Devi, Nanda Kot, Nandaghunti, Trishul and Panchachuli peaks.
Accommodation

KMVN Tourist Rest House Ramgarh
The Tourist Rest House of KMVN Ramgarh has good rooms and are pocket friendly.
CONTACT DETAILS
The Manager
Tourist Rest House
Kumaon Mandal Vikas nigam Ltd.,
Ramgarh, Dist. Nainital
Ph. No.: (05942)- 281155
Mobile No. : + 91- 8650002531
How to reach
By Flight
Pantnagar airport is the nearest airport, which is located about 76 kms from Ramgarh. Taxis are easily available from the airport to Ramgarh. Pantnagar is connected to Delhi with daily flights. Pant Nagar Airport is well connected by metalled road with Ramgarh.
By Train
Kathgodam Railway station is the nearest railhead to Ramgarh situated at a distance of 45 km. Kathgodam is well connected by major cities of India like Lucknow, Kolkata, Delhi, etc. There are two trains that run daily between Delhi to Kathgodam and vice-versa.
By Road
Buses to Ramgarh are easily available from ISBT Anand Vihar, New Delhi to Haldwani, Nainital and Almora. Taxis are also available from Nainital and Kathgodam Railway Station. Many private bus service providers operate luxury buses between Delhi to Kathgodam and Nainital from where you can easily get a taxi to Ramgarh.
Ramgarh Distance from popular cities
Delhi to Ramgarh 292 km
Mumbai to Ramgarh 1604 km
Bangalore to Ramgarh 2223 km
Nainital to Ramgarh 18 km
Ranikhet to Ramgarh 40 km