Your guide to visiting Amrit Udyan (Mughal Gardens) in Delhi
|
Renamed as Amrit Udyan, the historic Mughal Gardens of the Rashtrapati Bhavan is a popular attraction in Delhi. The gardens open only once a year to general public. So, if you want to visit these beautiful gardens, you need to take time out in Feb-March. This period of the year is also a time when you will be able to see the gardens in their full glory.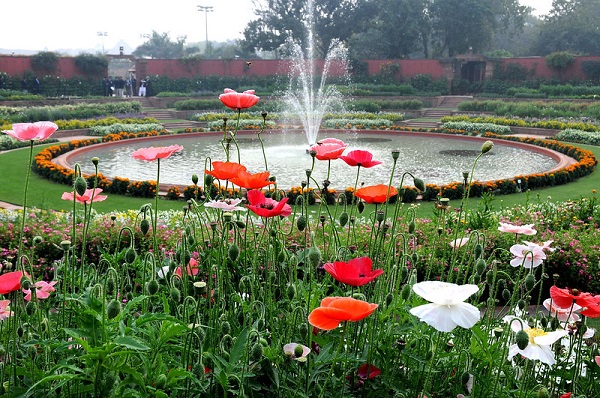 Many people interested in visiting Amrit Udyan could not enjoy the beauty of these gardens because of lack of information. Here, we provide all the necessary information about Amrit Udyan including Amrit Udyan opening dates, visiting timing, online booking, how to reach and nearest metro station to Amrit Udyan among others.
Amrit Udyan comes under circuit 3. This circuit takes visitors through the rectangular, long and circular gardens, the herbal garden, musical garden and finally the spiritual garden. The other circuits of Rashtrapati Bhavan are Circuit – 1 (main building) and Circuit – 2 (the museum).
Amrit Udyan Opening Dates 2023
Amrit Udyan is open to general public from 31 Jan to 31 March. It will remain closed on Mondays for maintenance days, and on 8 March on account of the festival of colours – Holi.
From 28 to 31st March, Amrit Udyan will be open for special categories on the following days:
Farmers – 28 March
Differently abled persons – 29 March
Personnel of Defence Forces, Paramilitary Forces and Police – 30 March
Women including tribal women's SHGs – 31 March
Amrit Udyan Online Ticket Booking
You can book online ticket to Amrit Udyan by visiting https://rb.nic.in/rbvisit/amritudyan.aspx
Amrit Udyan FAQs
Where is Amrit Udyan located?
North Avenue, Gate No. 35, Rashtrapati Bhawan, New Delhi, Delhi – 110004 .
Which is the nearest Metro Station to Amrit Udyan?
Central Secretariat Metro Station is the nearest station. You may then take auto to Gate No. 35 of North Avenue, Rashtrapati Bhawan. It may take roughly 10-15 minutes.
What documents are required to enter Amrit Udyan?
You need to carry the registration ticket and a photo identity proof.
Can I take a camera inside Amrit Udyan?
No, you cannot carry camera inside, however you can carry your smartphone and take pictures. If you carry a camera, you would be asked to deposit the same at the depository section due to security reason.
Is there parking facility available Amrit Udyan?
Parking area is available near Gate No. 35
What are the Amrit Udyan visit timings for public in 2023 ?
10:00 am – 5:30 pm
Is drinking water bottle allowed inside Amrit Udyan?
Yes
Is carrying purse allowed inside Amrit Udyan?
Yes
Is there Rest room facility available in Amrit Udyan?
Yes
How much time does it take to explore Amrit Udyan?
You may need a minimum 2 -3 hours to explore Amrit Udyan
What all is allowed to take inside Amrit Udyan?
You are allowed to carry purse, mobile phone, water bottle. Any other item needs to be deposited in the depository section at the entrance.
Amrit Udyan Interesting Highlight
People can scan QR code placed in the gardens to get more information about any particular flower, plant or tree during the visit.