How to book rooms online in Sai Baba Trust Ashrams?
|
Book your stay at Shirdi Sai Baba Sansthan Trust ashrams. Saibaba ashrams – Sai Ashram, Dwarawati and New Bhakta Niwas – offer clean, comfortable and economical accommodation options for Sai bhakts in Shirdi. Shirdi Sai Baba Trust runs three well known ashrams,  in which you can book rooms online.
With Sai Baba Trust online room booking facility, it is very convenient to book accommodation in any of the ashrams.
The best part of booking a room in Sai Baba Sansthan run ashrams is that you stay in the close vicinity of Sai Baba Temple. Moreover the accommodation offered is hygienic and safe.
Shirdi Sai Baba Sansthan rooms online booking purely depends on availability of rooms. The three asharms have a combine inventory of more than 2000 rooms. And both AC and non AC rooms are available. A room can accommodate anywhere between 2 to 6 persons.
Sai Baba Trust online room booking is very easy. All you need to do is register/sign up on http://online.sai.org.in/. See the registration form below. Looks little intimidating but it is easy to fill in.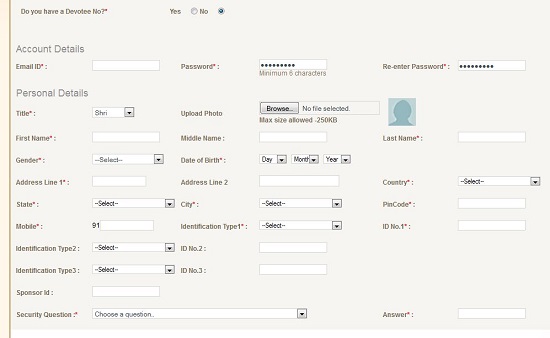 Once you fill in the registration form, you'll be sent a verification mail to your e-mail ID, which you used at the time of registration. Click at the verification link and you are done. Here is how the online room booking window looks like.
Now you can avail any of the online booking services, which include booking darhsan online, accommodation, donation, free prasad bhojan donation, Saileela membership, life membership and book shop.
Jai Sai Ram!
You might also like
Shirdi Sai Baba Temple Timings & Daily Schedule
How to Book Sai Baba Darshan and Aarti Online?
First Timer's Travel Guide to Shirdi
Shani Shingnapur: The humble abode of Shani Dev
How to tackle touts at Shirdi?