Delhi Metro Travel Card
|
Delhi Metro offers two types of tickets for commuting in its trains. One in the form of tokens that can be purchased from the ticket counters set up across metro stations and another – Delhi Metro Travel Card – which can be bought from designated counters especially set up to issue and recharge Metro Travel Cards.
A token is valid for single journey and only on the day of purchase. The value of token is shown when you display the token at the entry and exit gates.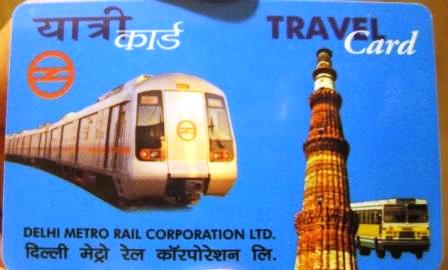 A Metro Smart Card on the other hand is very useful for daily commuters who do not want to stand in long queues for getting a token every time they want to travel by Delhi Metro.  It is very convenient to use a Metro Smart Card if you are a frequent traveller. Most office-goers in Delhi NCR use Metro Smart Card. It not only saves a lot of time but money as well. Every time you use Metro Travel Card, you get a discount of up to 3 per cent on your travel.
How to purchase Delhi Metro Travel Card/Smart Card?
Delhi Metro Smart Card can be purchased at a minimum cost of Rs. 100 out of which Rs. 50 is security deposit and Rs. 50/- is the value added to your card. Travel Cards can be recharged in multiples of Rs 50/- to a maximum limit of Rs. 1000/-. Security Deposit of Rs 50/- payable at purchase is refundable on return of smart card.
The validity of Metro Smart Card is one year from the date of purchase or one year from the date of recharge whichever is later. The card can be renewed at no extra charge. All metro stations have ticket reading machines and you can use these machines to check balance on your Metro Travel Card.
Recharge Metro Travel Card Online
Delhi Metro has recently launched online recharge facility for Metro Smart Card. Now you can recharge metro travel card online in three easy steps.  Just visit http://www.dmrcsmartcard.com/ and follow the steps given on the site.
Delhi Metro Tourist Card
Delhi Metro also issues tourist cards for travelling in Delhi Metro for unlimited travel over short periods.  Delhi Metro Tourist Cards are of two types, one which are valid for one day only and second, valid for three days.
Tourist Card Types
Value
1 Day Tourist Card
Rs. 150
3 Day Tourist Card
Rs. 300
Refundable Deposit is Rs. 50, which is payable at purchase and refundable on return of card.

Suggested Readings:
Beginner's Guide to Delhi Metro
Delhi Metro Route Guide
Delhi Metro Airport Express
Delhi Metro Fare List