A Biker's Bible to Manali-Leh Highway
|
No matter how well you plan for your dream ride on Manali-Leh Highway, things do not always go the way you like. And perhaps that's what adds to the thrill of riding on the Manali-Leh route. Here is a biking guide to Manali Leh Highway.
The Manali Leh Highway is a rider's muse and every year thousands of bikers hit the road from their respective cities and thousands other start their ride from Manali. A few daredevils extend their ride to Sringar passing through Kargil. Some ride the other way round, starting at Sringar and finishing at Manali covering Kargil and Leh in between.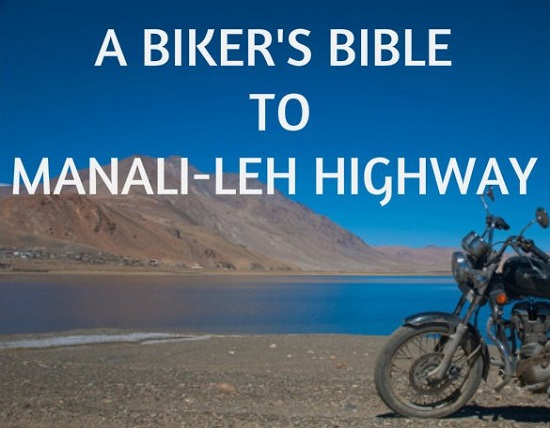 It doesn't matter which route you choose. The challenge lies in completing the ride and completing it with fun and safety. Here are few tips for bikers – the first timers and the veterans – wanting to tame the Manali-Leh Highway:
The Route
Manali – Leh Distance: 480 km (298 miles)
Opening of Manali –Leh Route: Mid May – June to October (varies depending on weather and snow)
Manali-Leh Route: Manali – Rohtang Pass – Kokhsar – Tandi – Keylong – Jispa – Darcha – Baralacha La – Bharatpur – Sarchu – Gata Loops – Nakee La – Lachulung La – Pang – More Plains – Tanglang La – Upshi – Karu – Leh
Mountain Passes on Manali Leh Highway
1. Rohtang Pass at 3,978 meters (13,051 ft); 50 km from Manali
2. Bara-lacha Pass at 4892 meters (16,050 ft); 7 km from Sarchu
3. Naki La at 4,740 meters (15, 551 ft); 41 km from Sarchu
4. Lachung La at 5,059 meters (16,600 ft); 13 km from Naki La
5. Tanglang La at 5,325 meters (17,582 ft) ; after More Plains
Places to stay on Manali-Leh Highway
1. Kokhasar: 57 km from Manali; Has HPPWD Rest House and several dhabas
2. Keylong: 118 km from Manali; Hotel Chandrabhaga, and other small hotels & rest houses
3. Jispa: 133 km from Manali; Ibex Hotel, tented accommodation & dormitories
4. Sarchu: 222 km from Manali; Tents/dhabas
5. Pang: 80 km from Sarchu; Dhabas where you can eat & stay
6. Upshi: 125 km from Pang; Tent/dhabas
Petrol Pumps along Manali-Leh Highway
Your best bet is to tank up at Manali and Tandi. There is no fuel station after Tandi and the next fuel station you'll find is at Leh. Keep in mind you'll be covering a distance of 365 km without a fuel station in between and it is advisable to carry spare fuel according to make and mileage your bike offers.
Since the terrain is rough and you'll ride in low gears, you'll burn more fuel than you normally do in ideal ride conditions. Most bikers carry two jerry cans of 5 liters each but it purely depends on your bike.
Riding Gears: What to carry?
It is better to dress in layers than to load yourself with one or two heavy jackets. To survive the cold in harsh ride conditions, you must carry:
1. Good quality gloves
2. Thermals
3. At least two pair of woolen socks and two pair of cotton socks
4. Monkey cap/Balcalava
5. Rain gears
6. Waterproof rucksack
7. Jacket
8. Riding Glasses
9.Sleeping Bag
10. Waist Pouch
11. Ropes – preferably Bungie Cords with metal link
12. Map
13. Torch
14. A pair of sleepers/sandals
15. Carry lots of polythene bags (but please bring them back)

Other Essentials
Bike Papers – License, Insurance Papers, PUC, ID Proofs… keep at least three sets – one with you; 2nd one in toolbox and 3rd with your luggage.
Medicines, especially to counter Acute Mountain Sickness (AMS); Diamox and Asprin are believed to help. In order to avoid AMS, drink lots of water, do not stay on high altitude passes for a long time.
Food
Dry fruits and chocolate bars offer great respite from hunger pangs especially at long stretches when there is nothing to eat.
Bike spares and accessories to meet any emergency head on
Tool Kit
Luggage Carrier
Spare Tubes
Spark Plug
Accelerator Cable
Front Brake Cable
Clutch Cable
Engine Oil
Spare Head Light & Tail Light
Petrol Pipe
5-Litre Jerry Can for Petrol (1-2)
Insulation Tape
Spare Fuses
You Might Also Like:
A First Timer's Guide to Manali – Leh Highway
Petrol Pumps on Manali Leh Route
Mountain Passes on Manali Leh Highway