Auli – Adventure & Solitude
|
Auli is one of the less explored hill stations in India. It is a popular skiing destination in Uttarakhand, best visited in winter months. However, if you would like to visit in Summer, you may club it with a trip to Badrinath – one of the char dhams in Uttarakhand. Auli is located in the cradle of snow-capped mountains – prominent being Nanda Devi, Chaukhamba, and Panch Chuli.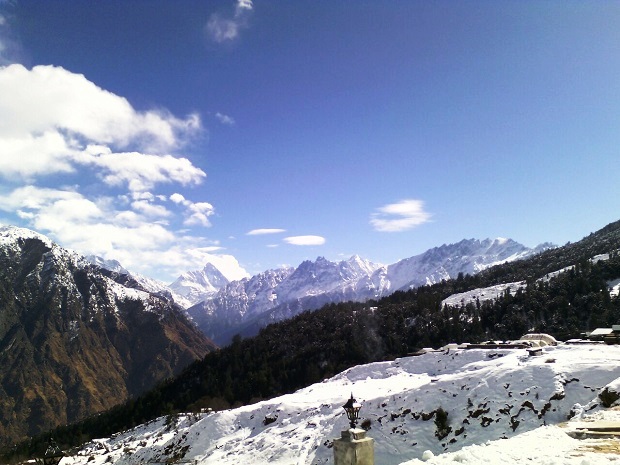 Auli Travel Guide
If you are planning to visit Auli, this Auli travel guide assists you in planning your trip to Auli.  Auli is popular for the fascinating ski resorts and stunning natural vistas. Surrounded by the snowy peaks of the mighty Himalayas, Auli offers the enchanting scenery of oak fringed slopes and coniferous forests.
Where's it
Auli is located in the Indian state of Uttarakhand at an altitude of 2800 meters above sea level.
Auli Distance from:
Delhi: 500 km
Noida: 494 km
Gurgaon: 527 km
Chandigarh: 547 km
Haridwar: 284 km
Dehradun: 303 km
Best time to visit Auli

Summer (March to June) is pleasant with moderate climate and average temperature around 15°C. Summer season is ideal for sight seeing and also for visiting nearby attractions.
Monsoons (July to October) are accompanied with scanty rains and also temperature drops down to 12°C. If you plan to visit Auli in monsoons, check road condition and weather forecast before you leave. The road to Auli is prone to landslides during monsoon.
Winter (November to February) in Auli means chilly days with average minimum touching near 4°C. Minimum temperature can touch sub zero levels (-8°C). Snow falling seen very often during winters. These months are perfect for travelers liking chilly climates and skiing.

How to reach Auli
By Air: Jolly Grant Airport is the nearest Airport to Auli situated at a distance of 286 km. Jolly Grant Airport is well connected to Delhi with daily flights. Auli is well connected by motorable roads with Jolly Grant Airport. Taxis are available from Jolly Grant Airport to Auli.
By Train: The nearest railway station to Auli is Rishikesh. Rishikesh railway station is situated 264 km before Auli on NH58. Rishikesh is well connected by railway networks with major destinations of India. Auli is well connected by motorable roads with Rishikesh. Taxis and buses are available from Rishikesh, Srinagar, Rudraprayag, Chamoli, Joshimath and many other destinations to Auli.
By Road: Auli is well connected by motorable roads with major destinations of Uttarakhand state. Buses to Haridwar, Rishikesh and Srinagar are available from ISBT Kashmiri Gate. Buses and Taxis to Auli are easily available from major destinations of Uttarakhand like Rishikesh, Pauri, Rudraprayag, Karnaprayag, Ukhimath, Srinagar, Chamoli etc. Auli is situated only 14 km from Joshimath which lies on NH 58.
What to see & do in Auli
When in Auli,  you can choose to do nothing, laze around, sip a cup of coffee and enjoy the snow-laden mountains. Or get out of your resort and enjoy the following places:
Gurso Bugyal is a 3-km trek from Auli, which offers breathtaking views of the mountain peaks like the Nanda Devi, Trishul and Dron Parvat. Gurso Bugyal transforms to a green pastureland during spring season and wears sheets of snow during the winters. Perched at an elevation of 3,056 mts above sea level Gurso Bugyal has mixed forest of oak and conifer. Gurso bugyal is only 1.5 km from the last tower of Gondola ropeway.
Chattrakund is small lake holding crystal clear water. Chattrakund is situated just 1 km ahead of Gurso Bugyal. Located amidst jungle this mysterious lake showers us with fairy tale surroundings.
Kwani Bugyal is a popular destination with trekkers. It is about 12 kms from Gurso Bugyal at an elevation of 3,380 mts above sea level. The best time to visit Kwani Bugyal is June and September.
Chenab Lake is in Dang Village near Joshimath.  The place is still unknown with most number of tourists and it is quite inaccessible by motorable roads. Therefore, Chenab Lake does not see much of tourists, but the virginity of this place makes it an enchanting spot.
Joshimath is one of the four 'math' created by Adi Shankaracharya. It is the winter seat of Shri Badrinath during winters. Joshimath is connected with Auli by highest cable car of Asia. Joshimath is situated at an elevation of 1,890 mts above sea level. Kalpavriksha and Narsingh temples are populare temples in Joshimath.