Hampi: The Lost Kingdom
|
Imagine undulated hills with giant boulders scattered around. Not far from these colossal black and grey stones, flows a river that goes by the name of Tungabhadra. The size of the boulders is such that it will leave you with awe and excitement. Amid these massive boulders, lay the ruins of the largest and most powerful kingdom of South India. Yes, that is Hampi for you.
According to legends, this area was Kishkinda (as described in Ramayana), the kingdom of Bali and Sugriva.  However, history traces the origin of Hampi to the Vijayanagar Empire. The storey of Hampi goes back to the 14th century when two Telugu princes Harihara and Bukka in 1336 founded the city on the banks of the Tungabhadra. But it is the wisdom and bravery of Krishnadevraya, the last powerful king of the Vijayanagar Empire that gave Vijayanagar its golden period and a proud place in the pages of history.
Krishnadevraya's city of victory, Hampi can best be described as poetry in stone.  The giant boulders give Hampi an unusual character and its many architectural wonders offer a peek to its glorious past. A UNESCO world heritage site, Hampi is where you can lose yourself in the ruins of magnificent palaces and intricately designed temples.
Hampi Bazaar and Kamalapuram are the two main points of entry to the ruins of Hampi. Most tourists prefer to enter through the market in order to take in the buzz and excitement of Hampi Bazaar. The bazaar is crammed with shops, budget lodges and restaurants. In the vicinity is the main attraction, the majestic Virupaksha Temple. It is where tourists flock. Built in 1442, the temple's main gopuram is almost 50 meters high.
A 10-minute walk along the riverbank takes you to the Vittala Temple. An epicenter of tourist attractions in Hampi, the temple is built in the form of a well spread out complex with compound wall, gateway towers, halls, pavilions and temples. The hallmark of Vittala Temple is the Stone Charriot, which has become an icon that represents Hampi in various media publications.
Do not miss the outer pillars of Vittala Temple, which when tapped produce a musical sound and hence also called musical pillars. In order to save these pillars from damage, these are now out of bounds for tourists. To make your Hampi tour interesting and to learn some lessons in history, take services of a guide.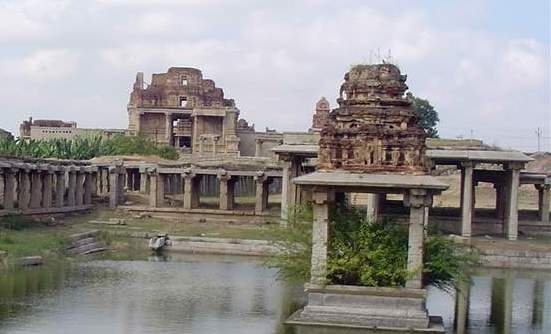 Hiring a bicycle or moped is a very popular way of exploring Hampi. There are cycle/moped rental shops around Hampi Bazaar and some of them are in Kamalapura. You can also rent a bicycle or moped from Hospet as well, but please note Hampi is around 13 km from Hospet and you have to cycle all the way to Hampi.  If you want to explore Anegondi area, across the river, cycle is very convenient as you can ferry the cycle on the other side. To hire a two wheeler on rent in Hampi, you probably need to have ID Proof/Driving Licence/Passport.
Other notable attractions in Hampi include the Nandi Statue, Achyutaraya Temple, Royal Centre and Queen's Bath. You can also visit the archaeological museum that displays sculptures from local ruins. If you like a bit of adventure, ride a coracle (small round traditional boat) on the Tungabhadra.
The spectacular landscape of Hampi is a photographer's delight. It presents a sea of opportunities to capture the beautiful ruins in the backdrop of giant boulders. Such are the architectural wonders of Hampi that they will leave you speechless and spellbound.
Reaching Hampi
Hospet, 10 km away is the nearest railway station and bus stand to Hampi. Regular buses and trains are available from Bangalore, which is 350 km away from Hospet.