A Beginner's Guide to Pushkar Camel Fair
|
With so much of noise and crowd it is not easy to make your way through the Pushkar Fair. This Pushkar Fair Guide attempts to provide answers to some basic questions including how to reach Pushkar, where to stay in Pushkar and Pushkar programme guide.  This Pushkar Fair Guide will be of immense use to all those planning to visit Pushkar Fair.
Pushkar Fair or Pushkar Camel Fair is an annual cattle fair that takes place in the month of October- November every year in Pushkar, Rajasthan. "According to the Hindu calendar Pushkar Fair commences in Nawami (ninth day of fortnightly phases of moon) and ends in Purnima (Full Moon) in the month of Kartika (October or November according to the lunar calendar)."
Where is Pushkar?
Pushkar is a small town in Ajmer district of Rajasthan. It is situated 14 km northwest of Ajmer.
How to reach Pushkar?
Pushkar can easily be reached by a combination of air, rail and road transport. Jaipur's Sanganer Airport is the nearest airport to Pushkar, which is located at an approx. distance of 150 km.  Jaipur airport is well connected by direct flights from New Delhi, Mumbai, Bangalore, Ahmedabad, Hyderabad, Indore, Kolkata and Chandigarh.
The nearest and well connected railway station to Pushkar is Ajmer Junction, which has good rail connectivity to and from Delhi, Jaipur, Agra, Udaipur, Jodhpur, Abu Road and Ahmedabad.
There are regular buses to Ajmer from places like Jaipur, Delhi and Mount Abu. Regular Rajasthan State Transport and Rajasthan Tourism buses are available from Delhi to Jaipur and Ajmer throughout the day and night at regular intervals.
Distance of Pushkar from major cities:
| | |
| --- | --- |
| City | Distance in km |
| Jaipur | 140 km |
| Delhi | 400 km |
| Bikaner | 230 km |
| Jaisalmer | 490 km |
| Udaipur | 280 km |
| Ahmedabad | 526 km |
Where to stay during Pushkar Fair?
Hotels in Pushkar are limited and it is advisable that you book a room in advance. Hotel rates shoot up during Pushkar Fair. Quite a few tour operators and RTDC (Rajasthan Tourism Development Corporation) set-up tented accommodation in the vicinity of fair ground and provide tourists a chance to live and soak in the humdrum of Pushkar Fair.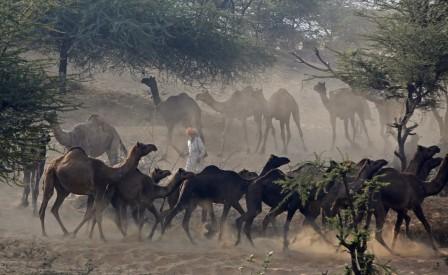 If you do not get these two accommodation options, your next best bet is Ajmer, a town approx. 14 km away from Pushkar. You can hire a taxi for your travels to the Pushkar Fair. However, keep a note that you may have to walk a long distance to reach the fair, as vehicles are stopped way before you enter the fair ground.
RTDC provides comfortable accommodation in its hotels – Khadim and Sarovar in Ajmer and Tourist Village in Pushkar.
Pushkar Camel Fair Programme 2013
Some of the programmes and competitions organised during Pushkar Fair are:
Camel Race
Group Dances by local school students
Camel & Horse dance competitions
Camel Decoration competition, called Gorband locally
Turban Tying competition
Kabaddi match between locals and visitors
Musical chairs
Longest moustache competition
Matka or water pot race for women between local and visitors
Suggested Readings:
Pushkar Camel Fair 2013 Dates
How to take best photos at Pushkar Fair?
Fairs & Festivals in India: October 2013
Fairs & Festivals in India: November 2013