Fairs & Festivals in India: October 2013
|
The month of October heralds the beginning of important fairs and festivals across India. After a brief lull, the country warms up to various prominent festivals like Durga Puja, Mysore Dusshera, Kullu Dusshera, Navaratri and Marwar Festival in October.
No matter, which part of the country you are in, you'll find one or the other festival to soak in the festivities. In the east, Kolkata is decked up like a bride during Durga Puja celebrations and there is hustle-bustle in the bazaars. You'll find the entire state in a festive mood. Down south, you can be part of Mysore Dusshera.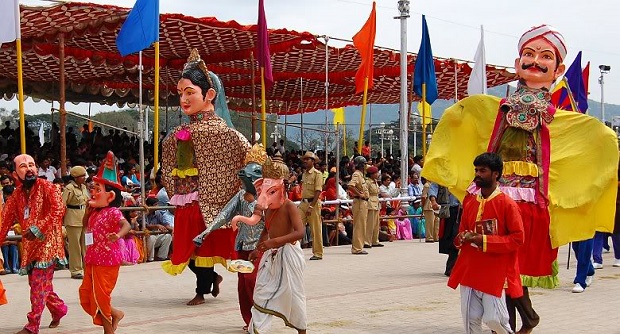 If you have fancy for the hills and the festivities there, head to Kullu, a small town near Manali for the exciting Kullu Dusshera.
In the west, Gujarat comes alive with songs and dances of Dandia during the Navarati celebrations. Rajasthan, after a long spell of dry and scorching summer, gets ready for a series of fairs and festivals that continue till Feb-March next year.
October is also a month loved by motor sports enthusiasts in India, who eagerly wait for the Formula 1 India Grand Prix. The event takes places approx. 60 km from Delhi at Budh International Circuit in Greater Noida, UP.
October Fairs & Festivals
| | | |
| --- | --- | --- |
| FESTIVAL | DATE | VENUE |
| Mysore Dussehra | 5-14 October | Mysore, Karnataka |
| Navaratri | 5-13 October | Gujarat, Mumbai, Varanasi |
| Durga Puja | 9-13 October | Kolkata, West Bengal |
| Kullu Dussehra | 14 October | Kullu, Himachal Pradesh |
| Dussehra | 14 October | Delhi, Varanasi (particularly in North India) |
| Marwar Festival | 17-18 October | Jodhpur, Rajasthan |
| Rajasthan International Folk Festival | 17-21 October | Jodhpur, Rajasthan |
| Formula 1 India Grand Prix | 25-27 October | Budh International Circuit, Greater Noida, UP |