Amarnath Yatra: Dates & How to Register for the Yatra?
|
The registration process for the annual Amarnath Yatra has begun. The Amarnath Yatra 2014 will begin from June 28 and will continue till August 10. Devotees intending to visit the holy shrine need to fill in the registration form and obtain necessary permissions as required. Keeping in mind the high altitude travel and arduous nature of the yatra, providing a health certificate is compulsory.
Every year hundred thousands of pilgrims embark on the holy Amarnath Yatra for the darshan of the ice Shivling in the Amarnath Cave. The cave is situated at an altitude of 12, 756 ft. above sea level in Jammu & Kashmir. The area remains snow bound throughout the year except for a few months when it is possible to reach the cave by foot.
Here is the information published by Amarnath Shrine Board for Amarnath Yatra 2014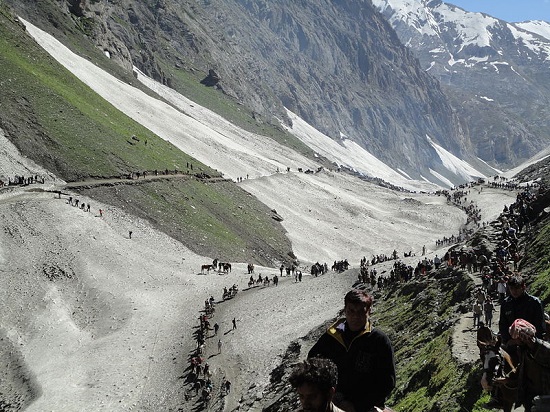 Procedure for Registration of Yatris through designated Branches of Banks:
1. This year's  Shri Amarnathji Yatra will commence on 28th June, 2014, via both the routes Baltal and Pahalgam, and conclude on 10th August, 2014.
2.  Advance Registration is compulsory for all intending Pilgrims.
3. Nobody shall be allowed to undertake the Yatra without securing a Yatra Permit which is valid for a specified day and route.
4. Every intending Pilgrim can secure his/ her Yatra Permit from any of the notified Bank Branches (87 of J&K Bank, 300 of Punjab National Bank and 38 of YES Bank) located in various States/UTs of the country.
5. The addresses of the notified Bank Branches which have been authorised to provide Registration are available at Shri Amarnathji Shrine Board's website: shriamarnathjishrine.com
6. The Registration for the Yatra 2014, through all the nominated Bank Branches will commence from 1st March, 2014.
7. For Registration/ obtaining Yatra Permit, an intending Yatri shall have to submit filled -in prescribed Application Form and Compulsory Health Certificate issued by the Authorised Doctor/Medical Institution.
8. The State-wise lists of Doctors/ Medical Institutions authorised to issue the prescribed Compulsory Health Certificate are available at Shri Amarnathji Shrine Board's website.
9. The formats of the Application Form and Compulsory Health Certificate are also available at Shri Amarnathji Shrine Board's website, shriamarnathjishrine.com