A Month Wise Guide to Fairs & Festivals in India
|
India is an incredible land of fairs & festivals. You can find the country in celebrations mode practically every month, and once the hot summer season is over, India brims with festivities. Some of the country's most popular festivals are held in winter months, when weather is cool and pleasant.  In general fairs & festivals in India start from October and continue till April.
If you want to be part of fairs & festivals in India, plan your travel in a such a way that you are at these places during the festivities. Here is a list of important festivals starting from January.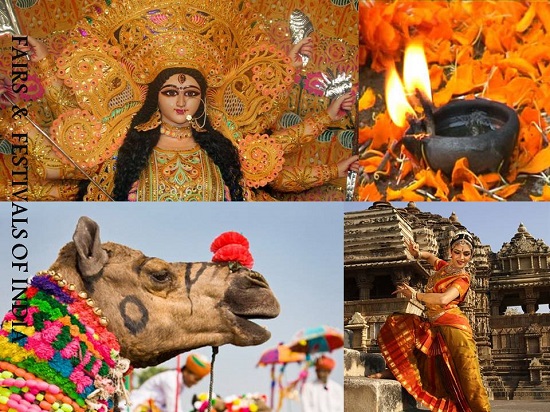 India Fairs & Festivals 2014
January
Kite Festival in Gujarat, Pongal in Tamil Nadu (and other southern states) and Bihu in Assam are popular festivals that are celebrated in the month of January. During Kite Festival, check out the Kite Museum in Ahmedabad.
February
You can head to Puri in Orissa, which comes alive during the annual rath yatra in May-June. But in February, the town gears up to organise a different kind of spectacle – India Surf Festival (Feb 14-16). Surfing in India is not very popular and if you want to get a slice of surfing in India, head straight to Ramachandi beach on the Puri-Konark Marine Drive. And the event is not only about surfing, it also brings together artists, musicians and designers from across the country.
Another important festival that one can look forward to in February is Khajuraho Dance Festival that takes place in the backdrop of the famous Khajuraho Temples.
March
Yoga enthusiasts may head to the spiritual and yoga town – Rishikesh – in the foothills Garhwal Himalayas for the annual Yoga Festival from 1 – 7 March.  One may get introduced to multiple styles of Yoga, including Kundalini Yoga,  Iyengar Yoga and Kriya Yoga.
April
In April north India, especially Punjab reverberates with beats of drums and rythams of Bangra as the state celebrates Vaisakhi or Baisakhi, the harvest festival and founding of the Khalsa in 1699 by the 10th Guru Guru Gobind Singh.
May
In May, travel to the Northeast corner of India to Nagaland, where Ao Nagas celebrates – Moatsu Mong – the completion of the season of sowing, by love songs, warrior dances and rice beer.
One can also visit Dharamsala in Himachal Pradesh to enjoy the magic of cinema in the mountains as the hill station hosts Dharamsala Film Fest.
June
When most of the country is under the spell of hot weather, it is in Puri that Gods come out in giant and well decked chariots. The annual rath yatra in Puri is a sight to behold. It is the time when thousands jostles to pull the chariots while hundreds of others gather on the sidelines to watch the spectacle.
October
It is after a brief lull in the festivities, the country again gets ready to celebrate the most popular festival  – Deepawali. The dates keep changing according to Hindu calendar and Diwali/Deepawali this year falls on 23 October. It is the time when houses are cleaned and lit up. The lighting of diyas is an integral part of Diwali celebration. Legend has it that the people of Ayodhya lit earthen diyas (lamps) to welcome Lord Rama after he came back to Ayodhya after 14 years of exile.
Durga Puja, which is celebrated in West Bengal and other parts of Eastern India in a big way is another popular festival.
November
It is during winter season that the most colourful state of India – Rajasthan – celebrates various fairs and festivals. One of the most popular fairs is the Pushkar Cattle Fair, which is generally celebrated in the first week of November.
Down South, Hampi, Bidar and Mysore in Karnataka celebrate Hot Air Baloon Festival.
December
In December, head for the Konark Dance Festival at the Sun Temple in Konark, Orissa. Well known dancers and musicians from across the country perform at the Konark Dance Festival.