Eat, read, sleep, walk… repeat at Ramgarh
|
It is not very often that I get an opportunity to holiday. Perhaps once in a year, may be twice at most. And this time when I finally dusted off my boots for a quite holiday in the hills, it was just an amazing feeling. I have always been a person who needs to connect to the nature, who wants to hear the silence of the mountains, one who loves taking quite trails in an offbeat destination, who wants to breathe the pines; and this time for a change, it was not only the air that was fresh and pure but fruit jams, marmalades and juices as well.
I was at the Ramgarh Bungalows (a Neemrana property) in Ramgarh, the fruit belt of the Kumaon region in Uttarakhand.
The overnight train journey to Kathgodam, the nearest railway station to Ramgarh, started on an unfortunate note. An audacious thief snatched the bag of a newly married Gujarati lady on the running train. Before she could realize what has happened, he was off the train in a jiffy. And this happened on 2nd tier AC compartment. The attendant on the coach was of little help.
Tip: Be aware of thieves and chain snatchers if you are sitting at the beginning (seats 1-8) and end (seats 58-64) of a coach especially when the train slows down in the suburbs of Delhi.
Later in the night, a TTE – stands for Travelling Ticket Examiner – (and not TT as we often call) with glowing skin and golden white beard threatened an eccentric lady to throw off the train, as she was travelling without a valid reservation ticket, and had dared to sleep on his berth. Barring few snores and occasional farts the journey aboard Ranikhet Express was peaceful.
The morning at Kathgodam was cold and windy. The railway station was quiet except for the chatter of a few taxi drivers, who were looking for passengers heading to Nainital. The retiring room at the station was clean. For the first time, I saw a retiring room that was not only clean but relatively empty. Since it was still dark outside and we had all the time in the world, we decided to wait.
As the first rays of the sun kissed the tin roof of the nondescript railway station, I headed out to find a taxi that would take us to Ramgarh. No deal in India is finalised without bargaining and I how could I broke the tradition. We haggled and amicably reached a figure, which was acceptable to both of us.
Soon we were on the serpentine road to Ramgarh. The climb from Kathgodam is steep and though I come from the hills and have been on the hill roads many a times, it took me some time to adjust to the altitude and hairpin bends. The road is scenic and once you gain height, you can see Kathgodam and Haldwani below. Lined with pine, oak and rhododendron trees, the drive to Ramgarh was beautiful. We could spot snow on roadsides especially areas where sun rays were not strong and snow has not melted yet.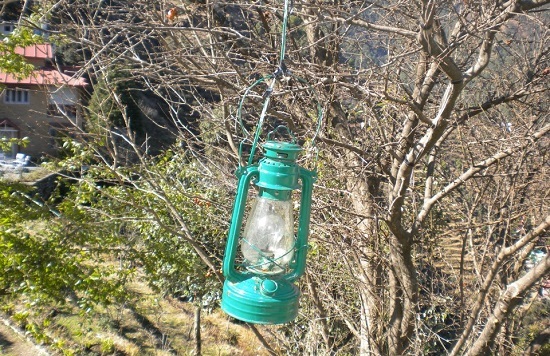 Once at Ramgarh Bungalows, I understood the's' part, the plural – bungalows. This Neemrana property is not one entity but three bungalows spread out on separate hills with their own staff. And perhaps that's what makes it different from rest of the hotels in the region. The bungalows exude old world charm and are maintained well. We were just in time for lunch and we enjoyed alfresco dining in the warmth of the winter sun with lovely views.
At that night we were the only guests at Ashok Vatika, the name given to a bungalow perched on a commanding hilltop. Jawaharlal Nehru had stayed here while he was on a tour of Kumaon. There are two other bungalows – Old Bungalows and Writer's Bungalow. All three bungalows are well located and offer beautiful views of the mountains and fruit orchards.
Since we went in February, we missed the fruit season; however we enjoyed the jams, juices and marmalade. The orchards adjacent to these bungalows hang with apricots, plums, peaches, pears and apples through the summer which is the biggest draw of the Ramgarh Bungalows. The property has its jam factory, which produces jams and juices without preservatives.
Ramgarh along with Thanedar in Himachal make for an awesome fresh-n-juicy weekend break from Delhi.
Ramgarh Bungalows is the place to connect to yourself or to your near and dear ones. It is great for travellers looking for peace and solitude. There is little to do if you are here in other than the fruit season. It is a lovely place to eat, read, sleep, walk… repeat. We spent a day at Nainital, which is again beautiful, full of verve and character. Later we realized it would have been better had we stayed a day or two at Nainital instead of settling down at Ramgarh for three days.
Ramgarh Travel Tips
I took the overnight Ranikhet Express from Delhi
Stayed at the Yellow Room at Ashok Vatika
Nearest railway station is Kathgodam
Taxis are available from the railway station
Kathgodam – Ramgarh distance is approx. 45 km
Ramgarh – Nainital distance is approx. 40 km
There is hardly a restaurant in the vicinity of the bungalows, so eating at the property is your only option.
Address
The Ramgarh Bungalows
Ramgarh (Malla),
Kumaon Hills
District Nainital
Uttarakhand 263137
Tel: +91 5942 281156
Mobile: +91 9411108156