Kashmir: A Paradise – Mine & Yours
|
If there is paradise on earth it is here it is here…no matter what you think of this age old adage unless you visit Kashmir, you won't understand the power these words carry. It is only when you are amid the snow capped mountains taking a Shikara ride on the serene Dal lake or soaking in the beauty of Gulmarg, Sonmarg and Pahalgam, you'll realize what it's like to be in the lap of a mountain land blessed with such a natural beauty that it moves you literally.
On my way to Gulmarg, my Kashmir. Have not taken a holiday in 30yrs. So what better place to go but to The Most Beautiful Place On Earth.:)
— Anupam Kher (@AnupamPkher) April 6, 2015
Spring – Summer (April- June) may be a popular season to visit Kashmir but if you want to experience a different hue of Kashmir, visit during autumn (Sept.-Oct.) or Winter (Nov.-March). Fall in particular has its own appeal as flaming Chinars bowl you over.
Srinagar, the summer capital of Jammu & Kashmir is your gateway to this paradise on earth. Regular flights from Delhi, Jammu and other parts of the country are available to take you to Srinagar. There are fixed itineraries that range from 3 nights/4 Days to 6 Nights/7 Days. It all depends on a tourist what all he wants to see and explore depending on the budget and time in hand.
Most Kashmir tour packages start with welcome of tourists at Sringar Airport, they are then transported to their pre-booked accommodation in Srinagar. This accommodation could be a hotel or a houseboat. However, the beauty of Kashmir lies not in your itinerary but the way you enjoy and experience the lakes, gardens, food and culture of Kashmir.
The hub for tourists in Srinagar is the area around the Dal Gate that lies between the waters of the Dal and River Jhelum.
Here are the popular places that no one misses and how could you when visiting Kashmir:
Mughal Gardens
On your first day, you may be directed to visit the beautiful Mughal Gardens created by the Mughal emperors.  Shalimar Gardens is one of the prominent tourist attraction that despite the crowds remains regal. It is where Jehangir and Nur Jahan fought and made up. It is said that they planted the first Chinar tree here. (Entry Fee – Rs. 10. Timings: 9 am – 7 pm)
Nishat Bagh
Another must visit place, Nishat Bagh offers a splendid view of the Dal Lake and the mountains around. Nishat Bagh was laid out in 1632 by Jehangir's brother-in-law Asaf Khan. (Entry Fee – Rs. 10. Timings: 9 am – 7 pm)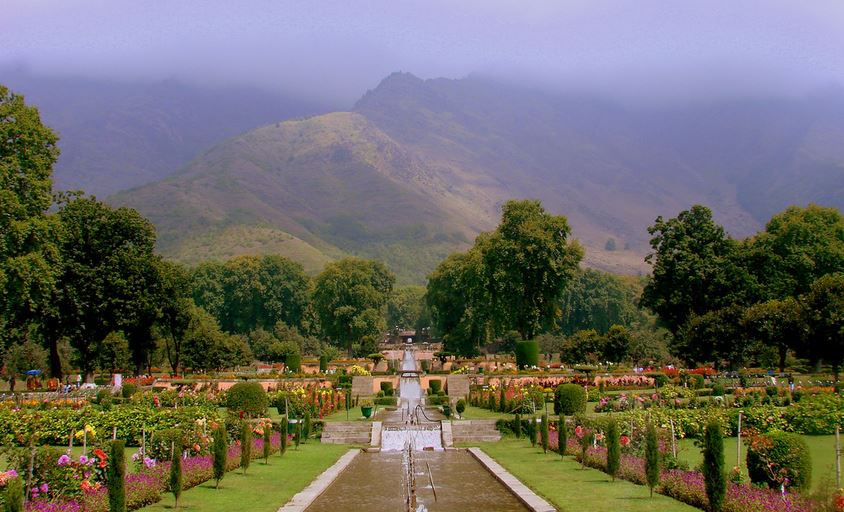 Chashma Shai Gardens
Ali Mardan Khan, a governor of Shah Jahan is believed to have built the Chashma Shai Gardens on the slopes of the Zaberwan Hill in 1632. The gardens offers a panoramic view of the Dal. (Entry Fee – Rs. 10. Timings: 9 am – 7 pm)
Dal Lake
The Dal is among the prime attractions in Srinagar and the chances are if you are staying in a houseboat, it will be on the Dal or Nageen Lake. The Dal Gate is the hub of most activities. You can take a Shikara ride, buy flowers from floating shops, get yourself clicked in Kashmiri dress, visit Nehru Park Island and Char Chinar Island or simply see the world go by from your Shikara.
Shankaracharya Hill
Other popular and must visit places in Srinagar include the Shankaracharya Hill where Shankaracharya Temple is located. Hari Parbat north-west of Shankaracharya Temple and Pari Mahal near Zaberwan Hill are other places you can visit.
Hazrabatbal Mosque and ruins of Avantipur are other tourist attractions in and around Srinagar.
Gulmarg
Most tourists spend day 2 or 3 of their Kashmir tour itinerary in Gulmarg. Gulmarg can be done as a day trip from Srinagar. It is a huge meadow ringed by fir trees and snowy peaks. If you love long leisurely walks you can take a walk along the Inner Ring Road or Outer Ring Road. There are ponies available just in case you want to ride. Skiing is another popular activity in Gulmarg and so is the Gondola Cable Car ride.
Pahalgam
Once considered as a shepherd's village, Pahalgam today is an integral part of any Kashmir itinerary. The centre of the town has some shops, restaurants and most of the hotels are located here. But it is not what entices tourists. Just travel little outside, and you are bestowed with thick and green woodlands of breathtaking beauty. You can hire a pony and head up to the many walks and trails that lead to meadows and quaint trails scattered around the hills. Hajan is a great place to go with a mat and picnic basket. It is on the way to Chandanwari, the famous Amarnath Yatra route.
No matter whether you choose to visit for three days or for three weeks' holidays in Kashmir, you are sure to bring back a slice of Kashmir with you.