Beach Holidays in India
|
Take a leisurely walk on the soft sand that cracks beneath your feet, build sand castles, look for seashells, polish off plates of sea food or just relax and watch the world go by. 
With a coastline of over 7,500 km, India has some of the stunning beaches, just perfect to let your hair down and lap your feet on water if that is what you love doing on a beach holiday. For the one with adrenaline rush, there are beaches to surf, snorkel and scuba dive. No matter what and how you want your beach holiday to be, the country has beaches that are pristine, alive, scenic, exotic and full of verve. All you need is to take your pick. The beaches in India straddle from west coast to east coast and further south east (Andaman & Nicobar Islands). And it is not only the beaches that are fun to visit but also the delicious seafood that one gets to sample when on a beach holiday.


Among all the beach destinations in the country, Goa, undisputedly stands tall and is most preferred, when we think of a beach holiday. No wonder, Goa sees a steady stream of visitors throughout the year. For those looking for an exotic beach holiday, Lakshadweep and Andaman & Nicobar Islands are a safe bet with their soft sandy beaches and aqua blue waters.
The beaches in Kerala – God's Own Country – have their own character and beauty attached to them. Swaying coconut trees, a dash of culture interspersed with monuments or a quaint lighthouse built by the Dutch and Portuguese; the beaches here make for an exciting holiday. Karnataka, Maharashtra, Gujarat, Tamil Nadu, West Bengal and Orissa also brag of beautiful beaches.
The crystal clear beaches of Andaman & Nicobar Islands
As the sun sets on the beaches here, the entire shoreline turns amber. Crabs crawl, sea gulls coo and take flight toward the drowning ball of fire. The golden sands sparkle in the soft sun as waves lap the shore. Many spectacles like these await a visitor to the beaches of Andaman & Nicobar Islands.
Port Blair is the entry point to the tranquil beaches of Andaman & Nicobar Islands. Radhanagar Beach, Havelock Island, Elephant Beach and Long Island Beach are some of the well-known beaches in Andaman & Nicobar Islands. Scuba diving, snorkelling, beach camping and sunset cruise are a few popular activities that you can enjoy when on a beach holiday in Andaman & Nicobar Islands.
The beach capital of India – Goa
Lazy, laid-back holiday or the one with some adventure thrown in, Goa has beaches that cater to diverse interests. Traditionally beaches in South Goa are regarded best to relax and to reclaim your peace of mind, while beaches in North Goa are best to have fun and frolic.
Colva, Palolem, Bogmalo and Majorda are among the best beaches in South Goa. Palolem (43 km from Margao) is picturesque and tranquil enclosed by coconut palms while Colva (8 km from Margao) is where you get the best seafood and a bustling nightlife. Bogmalo (8 km from Vasco) was a fishing village, which today has modern eating joints and shops selling handicrafts and other knickknacks. Majorda (18 km from Dabolim Airport) is the quietest of all beaches in South Goa, just perfect to relax, rejuvenate and recharge your batteries.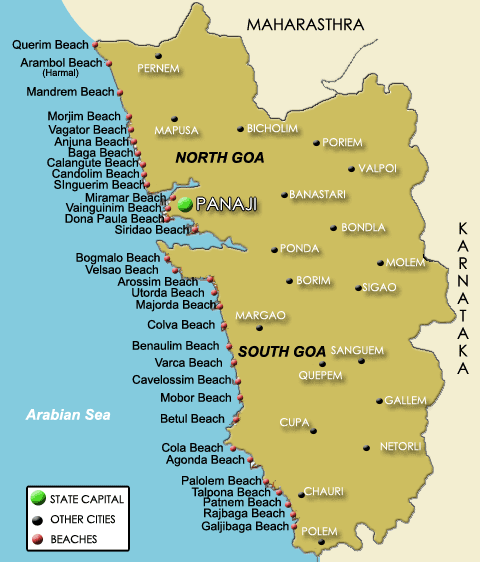 North Goa has a series of beaches and most of them are in a line starting from the craggy Sinquerim beach followed by quaint and quite Candolim; noisy and full of verve Calangute; Palm fringed Baga; flea market famous Anjuna and then you have Vagator, Morjim and further north is the Dil Chahta Hai made famous Chapora (10 km from Mapusa). Those looking for water sports should definitely head to Calangute. It is the most happening beach in North Goa.
Beaches in God's Own Country
Kerala with its lush green landscape and backwaters has always been a favourite among travellers. The state has a coastline of approx. 590 km that promises travellers an unforgettable seaside sojourn. Of all the beaches in Kerala, Kovalam is the most popular beach and rightly so as it is made of three coves – Lighthouse Beach, Samudra Beach and Hawa Beach – all equally beautiful in their own ways. Kovalam's proximity to the state capital Thiruvananthapuram further adds to its appeal. Varkala, 50 km from the state capital and Marari, just 11 km from the backwaters of Alleppey are two other exciting beaches in Kerala that you should not miss. Marari is just right for a light swim, and some snorkelling and surfing.
The beautiful Indian beach story does not end with Andaman, Goa and Kerala. For the explorer in you, there is Gokarna (in Karnataka), Ganapatipule & Tarkarli (in Maharashtra), Mandvi & Somnath (in Gujarat), Mandarmoni & Frazerganj (in West Bengal), Kanyakumari & Marina (in Tamil Nadu), and Puri and Gopalpur on Sea (in Orissa).
There is rhythm in the swaying of trees and message in the wind that directs the yachts; the coral reefs produce oxygen and sustain life on planet earth. Truly, life is a beach and beaches teach us a way of life.