Online Ticket Booking for Taj Mahal Begins
|
Now tourists visiting Taj Mahal (Agra) and Humayun's Tomb (Delhi) will be able to book entry tickets to these two monuments online. The online ticket booking facility for Taj Mahal and Humayun's Tomb has started functioning from the last week of December (2014) on pilot basis according to Union minister of tourism and culture, Mahesh Sharma.
According to ASI officials e-tickets would be covered with security features including a bar code. The officials are also contemplating to fix the number of visitors entering Taj Mahal daily in order to reduce human load on the monument as recent studies have shown that the increased tourist traffic at the Taj Mahal is having an adverse impact on the 17th century monument.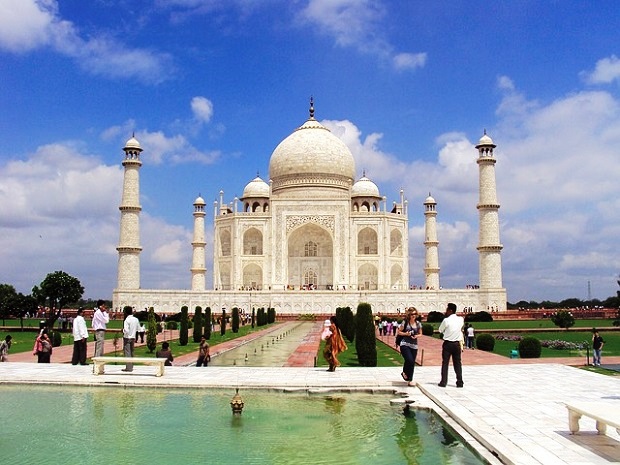 The monument built by Mughal Emperor Shah Jahan in memory of his wife Mumtaj Mahal is open from sunrise to sunset every day except on Friday.  Tourists can also visit Taj Mahal on full moon nights on select days, for which tickets need to be booked in advance.
On an average about six million tourists visit Taj Mahal every year. The Taj Mahal in Agra, Uttar Pradesh is among the  most popular tourist attraction in India. The Taj Mahal Agra is part of the famous Golden Triangle Tour, which covers Delhi and Jaipur.
Online Ticket Booking for Taj Mahal
The Indian Railway Catering and Tourism Corporation (ICRTC) in collaboration with the National Institute of Smart Governance, will operate and monitor e-ticket booking for Taj Mahal and Humayun's Tomb. The e-ticket for Taj Mahal and Humayun's Tomb can be booked by visiting
asi.irctc.co.in.
E-ticket Booking for Taj Mahal – Entry Fee & Timings
Free entry : Children below 15 years
Indian Citizens: Total Rs.20/- (Rs.10/- by ASI as Entry fee and Rs.10/- by ADA as Toll tax).
Citizen of SAARC and BIMSTEC countries : Total Rs.510/- (Rs.10/- by ASI as Entry fee and Rs.500.00 by ADA as Toll tax).
Other Foreign Visitor : Total Rs.750/- (Rs.250/- by ASI as Entry fee and Rs.500/- by ADA as Toll tax).
Opening Hours : Sunrise to Sunset
Friday Closed : (Open only for offering traditional prayer in the mosque between 12 Noon to 2 P.M).
Night viewing : On Full Moon date and two days before and after it, excluding Fridays and in the month of Ramzan.