McLeodganj – Of monks, deodars and leisurely walks!
|
I don't love going to places that everyone else do. While it is difficult to find a place where nobody has been to on this earth, I settled for one, which won't have swarm of tourists at least at a time when I go there. I chose McLeodganj. Not because I have any affiliation to the Dalai Lama but I heard that it is beautiful and quiet.
But then, so many places can be called 'beautiful' and 'quiet'. What's so special about McLeodganj? It is just 4-hrs drive once you disembark from the cozy confines of your Ac-Compartment at Pathankot station. In a way that is what loaded the dice in favour of McLeodganj. It was easy to access.
My plan was to take an overnight train to Pathankot and hop on to a local bus to Dharamsala. But then during my research, I stumbled upon the Kangra Valley Train that leisurely makes its way from Pathankot to Joginder Nagar passing through Kangra and numerous other small stations.
Dharamsala is mere 18 km from Kangra. I was tempted to board the train instead of taking a local bus. But it was not to be. I got a ticket (RAC) for an overnight train that had halt at Chakki Bank and not at Pathankot. I saw the Kangra Valley Train ride slipping. RAC (Reservation against Cancellation) phenomenon is due to two factors. 1. The tickets are not booked well in advance and 2. Others have decided to travel on the same day and time, when you want to travel. While Factor 1 can be countered by booking well in advance but you can't do much about Factor 2.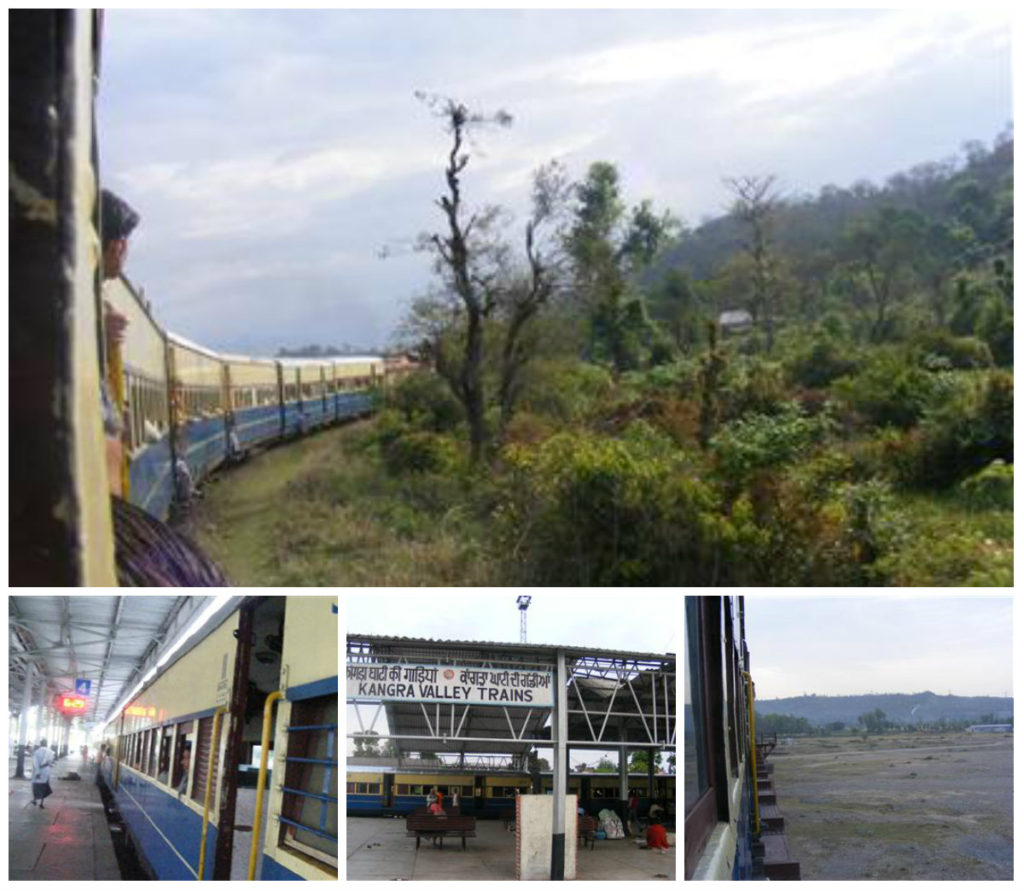 Everyday before my journey, I used to log on to the Indian Railways site to know how close I have reached to confirmation. Putting in my PNR to know the updated status, I had not the confirmed seat till the last night before my journey. The next day (6-hrs before boarding time) I took a sigh of relief, when finally I learnt that I can indeed have a seat to myself. No more running after the most important person on the Indian Trains – the TT. I could now pack and re-pack in peace and plan for the journey ahead.
Mcleodganj is easy to reach by rail and road transport. Regular buses both state-run and private are available from Delhi's ISBT at Ajmeri Gate. One can also take a train from Delhi either to Chakki Bank or Pathankot Railway Station. And then continue the journey by road to Dharamsala. One can also take the narrow gauge Kangra Valley Train to Kangra Mandir Station from Pathankot and then take a bus/taxi to Dharamsala/Mcleodganj.
Once on train, I was happy to see that I don't have to run after TT. I could comfortably sit without worrying about my seat being someone else's. One of the common emotions that most of us go through, when travelling without a confirmed seat.
As the train sped its way and was out of Delhi, I saw a person at the far end of my coach taking order for dinner. By the time he reached my seat I saw his expression changing. He went past me and a few others without bothering about dinner. Later I learnt the food was over and the only lucky ones who got dinner were those who were enterprising enough to grease that attendant's palm. I had to sleep empty stomach.
But sleep eluded till the time I had my share at a station 3-hrs later. An uncle ji on the lower birth kept snoring. I had no choice but to listen to his rhythmic snores.
Snoring, I believe is exclusive to the Indian railways and low cost airlines, If I may say so. I had a similar experience on my maiden flight to Goa. The middle-aged fat man next to me kept on snoring that too in the middle of the day till we landed.
I get to sleep finally. As I closed my eyes, the dim-light of a 3-tier AC compartment faded.
One may miss Chakki Bank completely, if one is not alert. Most trains halt there only for a few minutes. I had to rush to door to confirm what station it was and then had to come back quickly to take my stuff. The station was alive even in the wee hours of morning.
A cup of tea in kullad is mandatory. It is one of the best things to have on a cold morning. Though the taste was nothing to boast about…but the feeling of holding a warm kullad with both hands is something an experience to cherish.
It brought back memories of more than a lakh cups of tea gulped down during such journeys. I was still in a fix to take a bus to Dharamsala or hop on to a Vikram and reach Pathankot to catch the narrow gauge train to Kangra. The next Kangra Valley train was to leave in around 20 minutes. I decided to test my luck.
By the time I reached at the counter at Pathankot Railway Station to enquire about the train, it was too late. I could see the train chugging its way out of the station. Fortunately, the next train was at 7.15 am. I decided to wait. It was time for another cup of tea…
One can get to stay in Mcleodganj for as low as 150 rupees a night. There are a number of guest houses (only bed or in some cases bed & breakfast). There is an International Buddhist Hostel on Post Office Road best for singles and backpackers. Others can opt of Himachal Pradesh Tourism hotels – The Club House and The Bhagsu. A good number of private hotels are also there. Pema Thang Guest House on the Bhagsu Road has good rooms with lovely views and fine restaurant.
The train had already arrived at the platform. I failed to notice. By the time, I hopped on to the overhead bridge and to the platform many good seats were taken. I sat on the first one that I saw. There was still some time for train to move. I thought of checking a window seat, if I could find. Fortunately I found one and brought my rucksack.
A note of caution: If you plan to take morning trains to Kangra, be prepare to travel in wooden seats and enjoy the company of locals. Since it is not a tourist train as such, locals hop on and off the train. At times it gets really crowded. The best part however is you pay a meager amount as train fare. I paid just 17/- rupees for my journey to Kangra Mandir Station.
My destination was Kangra Station, which I was told come around 12.30 pm. It was more than 5 hours but I was in no hurry. As the train pulled out of Pathankot station, I could see the concrete buildings moving behind; ahead were the flat green fields and the cloudy sky. As the train gathered momentum, I could sense the slight chill in the air. The maximum speed was between 30-40 kmph. As the train moved ahead, passengers hopped up and down the train. We passed numerous stations. The landscape changed and so do my fellow passengers. I hardly got enough time to start a conversation. The scenery outside was beautiful. I had ample time to enjoy the passing vistas and catch them in my camera. Every time a bend came, I never lost an opportunity to crane my neck out to enjoy the lovely view of the train negotiating a curb.
It was not all very beautiful and comfortable on the train. As the sun shone brightly outside, inside the train was chock-a block and it was getting difficult to sit in the heat. Kangra was still two-hours away. I decided to doze off. But it was not easy. I had to force my self and finally when I reached Kangra station (Kangra Mandir to be specific), it was around 1 o'clock.
I made my way through the narrow path that connects the road head to the station. I managed to get a Vikram to Kangra Mandir and another one from there to Kangra Bus Stand. Regular buses to Dharamsala and time-bound to Mcleodganj are available from Kangra Bus Stand. At the Kangra Bus Stand, one gets a feeling that finally one has reached. The views from here are lovely. The 18-km long road to Dharamsala is plain and winds through the lush green fields. It is well maintained, which makes the journey a wonderful experience.
I finally landed at Dharamsala around 3 pm. Now the question was how to reach Mcleodganj? Though there are regular buses to Mcleodganj from Dharamsala, I had no clue about the time. Moreover I was so tired that I want to reach the hotel as quickly as I could. After a round negotiation with a guy manning taxi operators' office at Dharamsala I realized there is no other way to reach Mcleodganj than to hire a cab from these guys; as the presence of Taxi Union here is very strong.
The road to Mcleodganj from Dharamsala is steep and winding but scenic. I checked into the Himachal Pradesh Tourism Hotel 'The Bhagsu'. The hotel is located on Bhagsu Road after two blocks after The Club House, another HPTDC property in Mcleodganj. The room was nice, clean with attach bath. The moment I entered my room, I had a quick look at their menu card placed in the room and ordered for their Dahi-Rajma and plain fried rice. One of the best things that I liked about govt. tourism hotels in Himachal, that they serve piping hot food. I enjoyed the Dahi-Rajma and rice at their restaurant/dining room/bar at the ground floor.
In the evening I took a leisurely stroll down the market. The sun was setting and Dharamsala below has started to twinkle. Restaurants in the market were doing brisk business. The narrow streets and the main square were buzzing with tourists and cheerful maroon-robed monks.
My first few hours in Mcleodganj were well spent. The next day, early morning I made my way to the Dalai Lama Temple, a 10-minutes walk from the hotel. The temple was abuzz with a number of monks and a few tourists. I quickly went through the customary spinning of heavy prayer-wheels and sat down to have the butter tea and bread that were being served. I loved the tea and was happy to gulp down two glasses.
I love the leisurely pace of sleepy destinations and perhaps that is why I chose to walk down or rather up to the St. John's Church, Dal Lake and the Bhagsu Nag waterfalls — three main tourist places of interest in Mcleodganj. Those with time-constraint and weak legs can hire an auto for 150 -250 rupees or a car for 350 rupees. And they would have seen Mcleodganj in three hours flat. I took two full days and was only able to scratch the surface.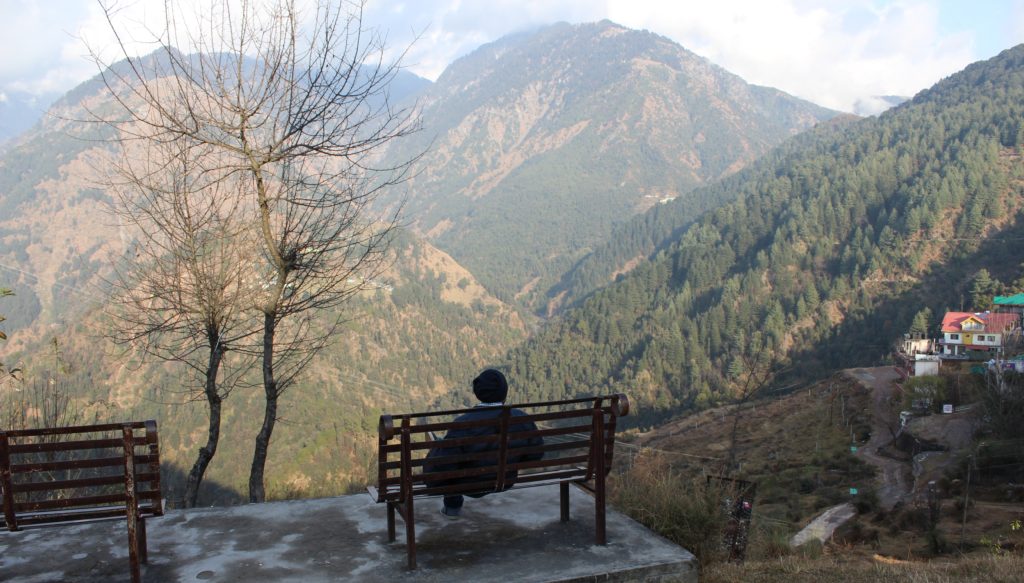 St. John's Church is hidden in the canopy of deodar trees. A perfect sense of calm and peace prevails as you enter the periphery of the church below the road. The church is fine example of excellence of British architecture. A Memorial of Lord Elgin, the British Viceroy who died here and also an old graveyard is located here. One of the phrase that imprinted on memory was the one engraved in a grave…"I shall go to him but he shall not return to me". St. John's Church is hardly 5 km from Mcleodganj main square.
Dal Lake some 7 km away from the town is another beautiful spot to take a boat ride. Another good thing to do is to feed to fish in the lake. The lake is considered holy (there is a temple next to the lake) and you've to remove your shoes before your set your foot on the boat to enjoy a ride. Fishing is prohibited.
Bhagsu Nag Temple and Waterfall was next on my itinerary. A 45-minutes leisurely walk took me to the temple and further 3 km ahead was the waterfall. Bhasu Nag waterfall is a scenic place and one where one can while away his time just sipping a hot cuppa or munching potato chips. I saw a middle-aged couple having round of cards on a rock near the waterfall. Love was certainly in the air.
As I bade good bye to the waterfall and started my decent to the road-head I could see the numerous maroon robes spread to dry out on the big boulders in the narrow stream. Monks were out to wash and clean their clothes. Like all of us they had a busy Sunday…
This travelogue was part of India Discovered Contest.