15 Places to Go on 15th Aug. Long Weekend
|
The very thought of a long weekend sets a traveller drooling. After all it is not too often you get long weekends. And when you do, you want to make most of it. Some of your colleagues must have planned their long weekends well in advance but you need not despair.  Travel does not necessarily mean planning. There is still lot of fun and excitement in spontaneity.  If you are still thinking, where to go, check the destinations below: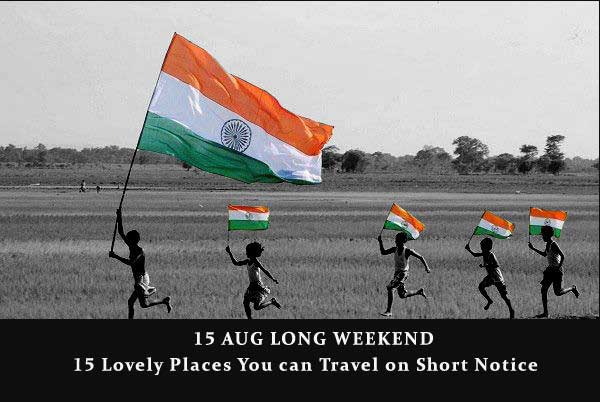 1. Lansdowne is my personal favourite. Especially in the rains it is amazing to say the least. Less than 200 km from Delhi, it is easy to reach. Either drive on well mettled road via Meerut,  Mawana, Bijnor, Najimabad and Kotdwara or take an overnight train to Kotdwara. Lansdowne is less than 50 km from Kotdwara.
2. Thanedar in Himachal Pradesh is great for a fruity holiday. Famous for its apples orchards, Thanedar is about 80 km from Shimla. The best time to visit Thanedar is during flowering season when the trees are in full bloom. And that generally happens in May – June. You can also visit in July – August  when the trees are laden with fruits.
3. Leh Ladakh is an all time favourite and may require more than a long weekend but it is a go to destination for sure. Take a flight or crawl your  way to Leh either via Manali or Srinagar, taking in the sights and sounds of the gorgeous landscape. Leh is 475 km from Manali and close to 430 km from Srinagar.
4.Mumbai – Goa road trip could be an exciting way to enjoy your long weekend. Thousands of travellers hit the Mumbai-Goa highway and head to the lovely beaches of Goa to relax and de-stress. You will be mostly on the NH-17 that connects Maharashtra to Goa. The road is in good condition though there are a few bad patches in between. You pass through Panvel, Chiplun and Sindudurg depending on the route you take.
5. Ramgarh is similar to Thanedar albeit in different state. It is famous for its fruit orchards and great for spending a really quiet holiday in the hills. A holiday in Ramgarh can easily be clubbed with Nainital as the distance between two places is not more than 30 km.
6. Yes, you are treated to vistas like the one above when you are in Pauri. It is what I believe is an underrated hill station. In fact not many travellers may have heard of this place in Garhwal, Uttarakhand. It is a big folly on the part of Uttarakhand people and Government not to develop Pauri as a prominent hill station. On a clear day, you get a 180 degree uninterrupted view of the Garhwal Himalayas. It is great for long walks. Take one to Kyunkaleshwar and Kondlia Temple walking past Ranshi field. And if you plan to give Pauri a try, do take a jacket or sweater for it gets cold even in August. Pauri is close to 300 km from Delhi.
7. Orchha will suit history and architecture buffs. It is a cute and rustic place on the banks of the Betwa, not too far from Jhansi railway station. It is well known for its chhatries or cenotaphs. Jehangir Mahal is another important landmark that attracts tourists to Orchha.
8. Khajuraho is another interesting place that one can visit. The temples of Khajuraho are believed to have been built by Chandela rulers between 950 and 1150 AD.  Again, great for travellers interested in architecture and history. The carving on these temples is beautiful and awe inspiring. Khajuraho Temples are famous for their erotic sculptures but trust only less than 10 per cent of the sculptures have erotic theme.
9. Valley of Flowers and Hemkund Sahib make for an adrenaline pumping holiday. Suitable for travellers wanting to test their physical strength, the trek to the Valley of Flowers is an arduous one. The trek starts at Govind Ghat, the last road head, which is almost 20 km from Joshimath.  It generally takes 6-8 hours (depending on your speed) to cover the distance of 14 km to Ghangaria, the base camp to the Valley of Flowers and Hemkund Sahib. Valley of Flowers and Hemkund Shaib are 4 and 6 km respectively from Ghangaria.
10. Diveagar is a quiet beach about 4 hours drive from amchi Mumbai. It is still untouched by the vagaries of mass tourism. So make most of its quiet and pristine environs, which is laced by coconut and beetle nut plantations. Accommodation is mainly available in homestays.
11. Matheran is great to relax your city jaded nerves. Slow down and savour the nature at Matheran, where motor transport is restricted. Take a tonga ride or simply walk and take in the green vistas. Matheran is close to 100 km from Mumbai.
12.  Kodai, yes our very own Kodaikanal in the Western Ghats makes for a wonderful long weekend vacation destination. About 10 hrs drive from Bangalore, Kodaikanal is about green rolling valleys, thick jungles and plenty of activities.
13. Gokarana is about 500 km from the IT City and Bangalore's hip and young crowd loves to hit its popular and not so popular beaches. Om, obviously the most popular beach in Gokarana takes the cake, however one can also explore the Kudle and Half-moon beaches.
14. Tarkarli is a quiet retreat with white sand blue waters in the Sindudurg district of Maharashtra. Tarkarli makes for a great place to unwind and polish off spicy Malvani cuisine, which makes ample use of locally-available fresh seafood.
15. Kurseong, 47 km from Siliguri is a new kid on the block for tourists tired of Darjeeling and Gangtok. It offers similar climate and almost equally good views minus large crowd and chaos that Darjeeling and Gangtok are during the long weekends.